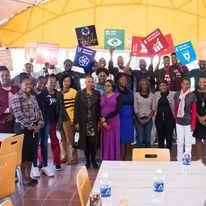 Participants pose for a group photo, with the SDG goals held in their hands
On the 28th of May 2021 TofaraOnline hosted a Careers in Digital Marketing and Emerging Technologies. The list of speakers, experts in their own respects were Maxwell Makumucha, Futurethuba Ndlovu-Moyo, Vongai Muchabaiwa, Farai Mazhandu, Kudakwashe Tshuma, Kevin Ngalonde, and Tofara Lindsay Chokera as the host.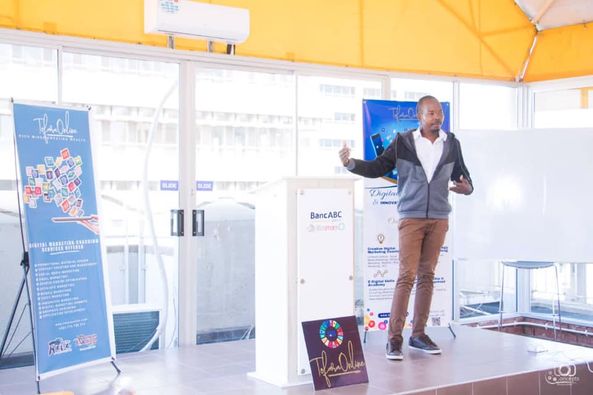 Futurethuba Ndlovu-Moyo as the country head for Toastmasters International she encouraged everyone to join this international platform that will not only teach you about public speaking, but it will help you to improve on communication and confidence as you grow your passion in ICT. What we appreciated is the networking opportunity that the organization brings. While we aim to grow our businesses online, our digital footprint can grow because of the quality network.
Vongai Muchabaiwa, also known as Vee Online digital is a digital marketer. She spoke of her journey which actually began with her in the humanities. However, that does not hinder her from going into digital marketing. This goes to show how the determination is all you need to follow your passion. Vongai Muchabaiwa is also linked to Afriblocks, a fast-growing platform connecting you with skilled, qualified, and talented African Professionals. Founded in 2020, AfriBlocks is an on-demand, two-sided marketplace with professional freelancers providing services to clients across the world at affordable pricing transforming the way African professionals work & solving the problem of unemployment. From graphic designers, software and website developers, marketers, writers, and more.
Farai Mazhandu who is a quantum computing innovator spoke on the topic of Quantum computing via a live feed from South Africa. He explained how quantum computing was based on quantum physics concepts and principles. He stated how first world countries such as China had already dug deeper in research and development of quantum computing, hence the need for African countries need to also start venturing into such research.
Kudakwashe Tshuma is a highly experienced graphics designer who emphasized the need for targeting a niche market to increase the chances for an individual or organization to realize profits. After having studied graphics designing Kudakwashe used Facebook to target individuals in the diaspora who wished to have their weddings in Zimbabwe, offering them good deals on invitation cards. He went on to establish a platform for aspiring graphic designers. Currently Kudakwashe Tshuma works online targeting vloggers and socialites who require his skills. He also highlighted on skills vs education, where he said organizations or individuals look for skills when they require someone to do their however education is equally as important as it is the foundation on which skills are built on.
Kevin Ngalonde who is a lead software engineer at Dandemutande spoke on the topic of Artificial Intelligence. He pointed out how websites, social media platforms, and mobile applications acquire data from their users which is then used in marketing strategies in better understanding user preferences. He also highlighted how artificial intelligence is already in use in Zimbabwe with organizations using technology such as behavioral analytics to prevent damage or security breaches.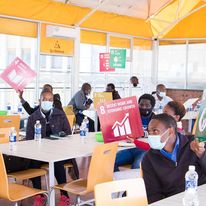 The workshop was aimed at aiding individuals who wish to venture into Information Technology who might not have any I.T background, adequate knowledge of the technology industry, or inspiration to embark on their own journey to venture into digital marketing and or emerging technologies.